Fireworks (花火, Hana-bi) is a 1997 Japanese film written and directed by Takeshi Kitano.
Nishi is a cop whose partner gets shot and is permanently paralyzed and confined to a wheel chair. Not only that, but Nishi's wife is dying of Leukimia. He decides to quit the police force and do whatever he can to help his friend and spend more time with his wife. Unfortunately in doing what he thinks is necessary to accomplish this he makes some questionable choices and his life spirals out of control.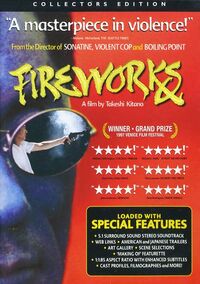 External links
Edit
Ad blocker interference detected!
Wikia is a free-to-use site that makes money from advertising. We have a modified experience for viewers using ad blockers

Wikia is not accessible if you've made further modifications. Remove the custom ad blocker rule(s) and the page will load as expected.