Frankenstein Conquers the World (フランケンシュタイン対地底怪獣, Frankenstein tai Chitei Kaiju Baragon, aka Frankenstein vs. Baragon) is a 1965 Japanese monster film directed by Ishirō Honda.
In 1945 the Nazis transport the heart of Frankenstein to Hiroshima right before it gets bombed by allied forces. Years later the heart has somehow transformed into a feral boy with regeneration and growth powers. When a monster called Baragon attacks the city Frankenstein is initially blamed for the destruction, but his name is cleared when he comes to the rescue and the two giant monsters clash in an epic battle.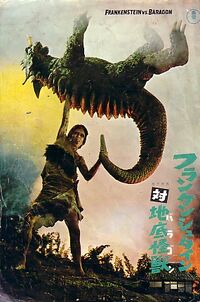 External links
Edit
Ad blocker interference detected!
Wikia is a free-to-use site that makes money from advertising. We have a modified experience for viewers using ad blockers

Wikia is not accessible if you've made further modifications. Remove the custom ad blocker rule(s) and the page will load as expected.