From the Back Or From the Front (後から前から, Ushiro kara mae kara) is a 1980 Roman Porno film directed by Kōyū Ohara and starring Yōko Hatanaka.[1] Along with Apartment Wife: Affair In the Afternoon (1971), it was remade in 2010 as part of an attempted revival of the Roman Porno genre.[2]
Bibliography
Edit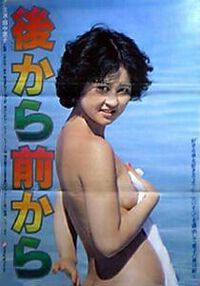 ↑ 1.0 1.1 "後から前から" (in Japanese). Japanese Movie Database. Retrieved 2011-01-16.
↑ 2010-03-28. "'It's a return!' - Nikkatsu resurrects 'roman porno' at www.tokyoreporter.com]
↑ "後から前から" (in Japanese). Kinema Jumpo. Retrieved 2011-01-16.
Ad blocker interference detected!
Wikia is a free-to-use site that makes money from advertising. We have a modified experience for viewers using ad blockers

Wikia is not accessible if you've made further modifications. Remove the custom ad blocker rule(s) and the page will load as expected.