Godzilla: Final Wars
Talk

0
3,902pages on
this wiki
Godzilla: Final Wars (ゴジラ FINAL WARS, Gojira: Final Wars) is a 2001 Japanese monster movie directed by Ryūhei Kitamura.[1]
The newly-formed but technologically advanced Earth Defense Force has miraculously been able to eradicate all monsters except for Godzilla. Instead, they have sealed him under ice in Antarctica. Years later they discover the cyborg monster named Gigan is on his way to Earth. Without warning several other monsters quickly appear in major cities across the globe, stretching the EDF's resources beyond their capabilities. When it seems like Earth will be overrun the monsters vanish, having been stopped by a race of aliens called the Xilians. At first the Xilians present themselves as allies to Earth, but their actions prove to be a ruse to gain the EDF's trust before unleashing the monsters once again. With no way to combat the aliens and monsters at the same time the humans decide to release Godzilla and lead him to each foe one-by-one using the Gotengo as bait.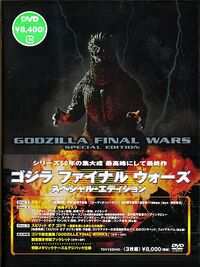 External links
Edit
↑ 1.0 1.1 1.2 "ゴジラ FINAL WARS" (in Japanese). Kinema Junpo. Retrieved 2011-05-25.