House (ハウス, House), aka Hausu (katakana transliteration) is a 1977 Japanese horror film directed by Nobuhiko Obayashi about a haunted house that literally consumes its victims. Its style is often compared to the films of Italian horror director Dario Argento.
Plot Summary
Edit
Unable to deal with her mother's death and her father's new girlfriend, Oshare decides to visit the secluded country house of her grandmother with several of her friends from school. When they arrive they meet her grandmother, who is a kindly old woman in a wheelchair.
The girls each start having horrific hallucinations about the house. These visions turn out to be accurate as one by one the girls are devoured by the house in various ways, leaving only Oshare herself left alive.
External links
Edit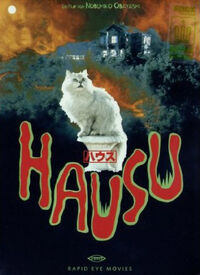 Ad blocker interference detected!
Wikia is a free-to-use site that makes money from advertising. We have a modified experience for viewers using ad blockers

Wikia is not accessible if you've made further modifications. Remove the custom ad blocker rule(s) and the page will load as expected.