Kokuten Kōdō (高堂国典 or 高堂國典 or 高堂黒天, Kōdō Kokuten, Takasago, Hyogo, January 29, 1887 - January 22, 1960)[1] was a Japanese actor. He was born Saichirō Tanigawa (谷川低市郎, Saichirō Tanigawa).
Partial filmography
Edit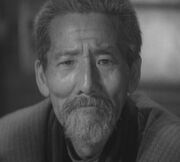 Bibliography
Edit
↑ Birth: "高堂国典" (in Japanese). Kinema Jumpo. Retrieved 2011-04-22; Death: "日本映画俳優御写真/男優編5: 高堂國典(谷川低市郎)" at www.asahi-net.or.jp
Ad blocker interference detected!
Wikia is a free-to-use site that makes money from advertising. We have a modified experience for viewers using ad blockers

Wikia is not accessible if you've made further modifications. Remove the custom ad blocker rule(s) and the page will load as expected.