Lone Wolf and Cub: Baby Cart in Peril (子連れ狼 親の心子の心, Kozure Okami: Oya no kokoro ko no kokoro) is a 1972 Japanese film based on a Kazuo Koike manga series and directed by Buichi Saito. It is the fourth film in the Lone Wolf and Cub series.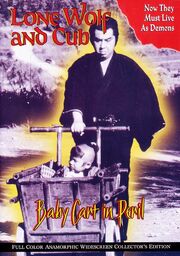 External links
Edit
Ad blocker interference detected!
Wikia is a free-to-use site that makes money from advertising. We have a modified experience for viewers using ad blockers

Wikia is not accessible if you've made further modifications. Remove the custom ad blocker rule(s) and the page will load as expected.