Mayu Asada
Talk

0
3,902pages on
this wiki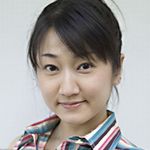 Mayu Asada (麻田真夕, Asada Mayu, Shizuoka, June 26, 1975 -)[1] is a Japanese actress. Asada has appeared on stage, film, V-cinema and television including the 2003 Taiga drama, Musashi (武蔵, Musashi).[2] A popular actress in Pink films, Asada was named Best Actress at the Pink Taishō ceremony for her performance in Tarō Araki's Mihada kaseifu: Yubizeme nurashite (2004).[3]
Partial filmography
Edit
Bibliography
Edit
↑ "麻田真夕のパーソナルデータ" (in Japanese). AV Actress Database. Retrieved 2010-10-16.
↑ 麻田真夕 (あさだまゆ) 人物情報 at naver.jp.
↑ "Best Ten of 2004 (2004年度ベストテン)" (in Japanese). P*G Website.