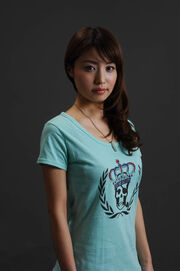 Megumi Fukushita (福下恵美, Fukushita Megumi, born April 24, 1984) is a Japanese actress and swimwear model. She made her show business debut by winning the 2001 Hori Agency Net Idol Auditon Grand Prix. She left Hori Agency on December 31, 2007.
She is 5' 3" tall (160cm).
Her blood type is A.
Her hobbies include people-watching, singing, music, and movies.
Some of her special skills include classical ballet (ages 3-16), calligraphy, snowboarding, and piano.
Filmography
Edit
External Links
Edit
Ad blocker interference detected!
Wikia is a free-to-use site that makes money from advertising. We have a modified experience for viewers using ad blockers

Wikia is not accessible if you've made further modifications. Remove the custom ad blocker rule(s) and the page will load as expected.