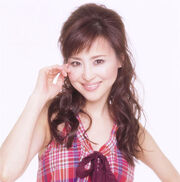 Seiko Matsuda (松田聖子, Matsuda Seiko, born March 10, 1962 in Kurume) is a Japanese singer and actress. Her birth name is Noriko Kamachi. In the early 1980s she became one of Asia's most famous pop idols for songs like Blue Coral Reef (青い珊瑚礁, Aoi Sangoshou) and went on to have many more #1 hits.
She is the mother of Sayaka Kanda, whom she had with her ex-husband, actor Masaki Kanda.
She is a legal resident of the United States.
She is fluent in both Japanese and English.
Filmography
Edit
External Links
Edit
Ad blocker interference detected!
Wikia is a free-to-use site that makes money from advertising. We have a modified experience for viewers using ad blockers

Wikia is not accessible if you've made further modifications. Remove the custom ad blocker rule(s) and the page will load as expected.