Street Mobster or Modern Yakuza: Shameless Human Sacrifice or The Code of Killer (現代やくざ 人斬り与太, Gendai Yakuza: Hito-kiri Yota) is a 1972 Japanese film directed by Kinji Fukasaku. It is the sixth and last film in the Modern Yakuza series.[1]
External links
Edit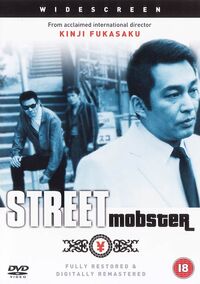 ↑ Weisser, Thomas and Yuko Mihara Weisser (May 1996). Japanese Cinema: The Essential Handbook. Miami: Vital Sounds Inc and ACC Publications. p. 190. ISBN 1-889288-50-0.
Ad blocker interference detected!
Wikia is a free-to-use site that makes money from advertising. We have a modified experience for viewers using ad blockers

Wikia is not accessible if you've made further modifications. Remove the custom ad blocker rule(s) and the page will load as expected.