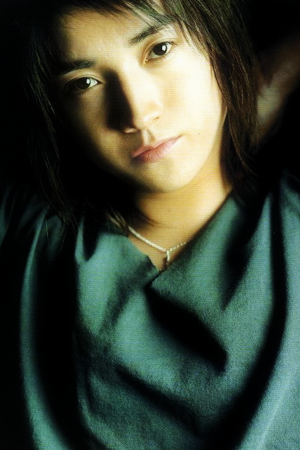 Tatsuya Fujiwara is a Japanese actor born on the 15th May 1982. He was born in Saitama and has an older brother and sister and one younger sister as well as one neice.Fujiwara's hobbies are Soccer, snowboarding, Mah-Jong and reading. He started acting at young age and went into theatre (before moving onto films and t.v) at the age of 15, he stared in Ninagawa's production of Shintokumaru. He has been in many films and t.v dramas. He is most famous for the roles of Shuya Nanahara in both the Battle Royale films and as Light Yagami in both the Death Note films- (which are based on the famous anime and manga). These are some of the films Tatsuya Fujiwara has been in:
Kamen Gakuen as Akira Dojima (2000)

Battle Royale as Shuya Nanahara (2000)

Sabu as Eiji (2002)

Battle Royale II: Requiem as Shuya Nanahara (2003)

Dark Fist as Takimo Usato (2003)

Sweet Happenings as Yukio Watanabe (2004)

Moonlight Jellyfish as Seiji Terasawa (2004)

Electric Magnet (Girl) as Yuichiro Kazama (2006) (Cameo)

Chain Movements as Nagato Sone (2004)

Sea Ghost as Yukoni Chinari (2006)

Death Note as Light Yagami (2006)

Death Note: The Last Name as Light Yagami (2006)

It's Only You as Hiro Kamikaze (2007)

L: Change the World as Light Yagami (2008) (cameo)

My First Love Goes To Past as Yuriko Dosu (2008)

Chameleon: Long Goodbye 2008

Snakes and Earrings 2008

Zen as Hojo Tokiyori (2009)

Kaiji as Kaiji Ito (2009)

Parade as Naoki (2010)

The Incite Mill (2010)

The Borrower Arrietty as the voice of Spiller (2010

Ad blocker interference detected!
Wikia is a free-to-use site that makes money from advertising. We have a modified experience for viewers using ad blockers

Wikia is not accessible if you've made further modifications. Remove the custom ad blocker rule(s) and the page will load as expected.