Zatoichi 4: The Fugitive (座頭市兇状旅, Zatoichi kyojo tabi) is a 1963 film based on Kan Shimozawa's novels, directed by Tokuzō Tanaka and starring Shintarō Katsu as Zatoichi the blind swordsman. Zatoichi 4: The Fugitive is the fourth entry in the popular, long-running Zatoichi series.
Release history
Edit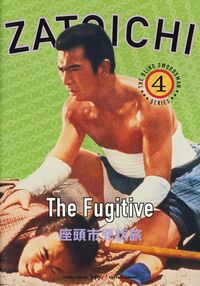 Zatoichi 4: The Fugitive was released theatrically on August 10, 1963.[3] In Japan, the film has been released on videotape in 1992, and in DVD format in 2003 both as a single and as part of a box set.[4] Home Vision Entertainment released it on DVD in the US on October 22, 2002.[5]
Bibliography
Edit
External links
Edit
Ad blocker interference detected!
Wikia is a free-to-use site that makes money from advertising. We have a modified experience for viewers using ad blockers

Wikia is not accessible if you've made further modifications. Remove the custom ad blocker rule(s) and the page will load as expected.